Vox
Night Train W/ Mercury Magnetics Transformers
$995.00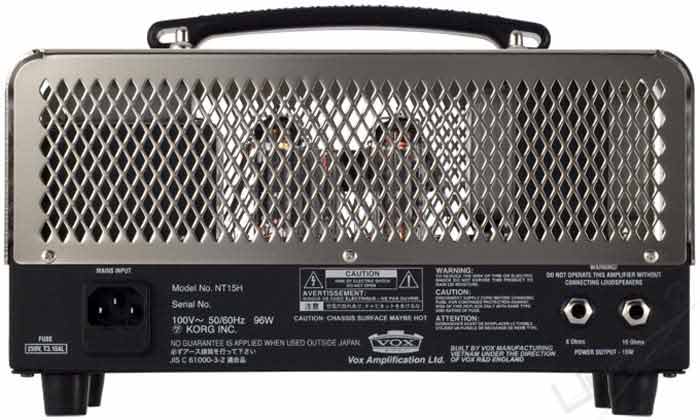 Main Features
Rock-solid, all-tube head that is made to travel.

Uncompromising sound with two 12AX7 preamp tubes and two EL84 power tubes.

Selectable BRIGHT or THICK mode switch provides EQ and Gain variations for just the right tone.

Dual-power tube mode offers 15 watt (Pentode Power) or 7.5 Watt (Triode Tone) operation.

Master Volume control preserves your gain settings at any playing level.

Solid, industrial-chic mirror finish exudes tube coolness.

Custom padded carry-case is included.
Add your hot sound to a late night demo; sit in at your favorite club; jam with friends; cut tracks across town – or do it all in a single day! The Night Train NT15H is your new best friend. Whenever and wherever, Night Train is ready to deliver that smooth and satisfying all-tube sound. We understand that you don't want to choose between killer sound and total convenience. And with Night Train you never will.
If Looks Could Kill
Night Train is one sexy beast. Solid enough to inspire confidence, Night Train weighs less than seventeen pounds - and the "armored lunchbox" dimensions provide extreme portability. Finished with a cool chrome mirror-finish, the signature VOX diamond design reveals that inspiring vacuum tube glow. And of course, the Night Train NT15H includes its own padded carry case to protect your investment.
True Tube Power
The sound is pure VOX. Inside, a pair of EL84 tubes deliver on the tube power promise. Two 12AX7 tubes drive the preamp stage with both power and clarity. This is the same winning tube complement as the classic VOX AC15. From chime-like clean tones to the warmest overdrive, there is no mistaking that harmonic richness of pure tube performance.
Dual Nature
A single switch lets you select between Pentode or Triode tube operation. In the Pentode mode, Night Train delivers a full 15 watts of power. In the Triode mode, the power is cut to 7.5 watts. The Triode mode also relaxes the tube power stage, letting that silky-smooth, mellow tube character shine through.
Preamp Pizzazz
Night Train greets you with a clear, simple panel design; offering the familiar Gain and Volume controls. The Tone controls include Treble, Middle and Bass, allowing you to dial up just the right character for your individual, signature tone. In addition, the preamp section features a mode switch, offering both BRIGHT and THICK options. The BRIGHT mode accentuates the high-frequency components for a clear, ringing tone; the THICK setting bypasses the tone circuit to boost the gain and create a chunkier, heavier sound.
Cabinet Convenience
Equipped with both 8Ω and 16Ω speaker jacks, Night Train can be used immediately with nearly any speaker cabinet. Naturally, we recommend VOX extension cabinets. This extra measure of versatility is just one more example of why Night Train may be the one amp you never leave at home. To complement the Night Train, both cosmetically and tonally, a specially voiced 1 x 12″ speaker cabinet (V112NT) is available. The V112NT weights in at just 11kg, compact yet full sounding, the cabinet features a Custom VOX Celestion 'Greenback' speaker. The Night Train V112NT cabinet will be available Summer 2009.
<![if !vml]>

<![endif]>
· INPUT Jack - Insert Guitar here!
· GAIN Control - Use this to achieve chimey cleans when set before 12 o'clock, to ear
bleeding overdrive when cranked! And of course everything in between!
· Mode Switch - This switch is used to adjust the front end pre-amp of the amplifier. There are 2 modes:
a. BRIGHT - Now you have a bit more brightness.
b. THICK - Use this to boost your Gain to awesome levels! (NOTE: when this is on, the tone
controls aren't!)
· TREBLE Control - This controls the treble (high) frequencies in your sound - from soft
and round when turned down (counter-clockwise) to bright and cutting when cranked (clockwise) and all points in-between.
· MIDDLE Control - This controls the middle (mid range) frequencies in your sound. From
hollow when turned down (counter-clockwise) to full and rich when cranked (clockwise) and all points in between.
· BASS Control - This controls the bass (low) frequencies in your sound - from warm and
light when turned down (counter-clockwise) to dark and heavy when cranked (clockwise)
and all points in between.
· VOLUME Control - This affects the overall output level of the preamp stage, use this to
control the overall volume of the amplifier whilst retaining all the tonal characteristics. (hey who, are we kidding here....overdrive!)
· OP MODE (Output Mode) Switch - This is used in 3 ways:
a. PENTODE - Full 15 Watts of power
b. STBY - No output, just nicely warmed tubes
c. TRIODE - 7.5 Watts output power with a slightly mellowed top end.
· MAINS Switch - Turns the Night Train from off to on!
Indicator - Let's you know if the night train is ....well...on or off!
<![if !vml]>

<![endif]>
1. MAINS INPUT - Connect your electricity here with the supplied, detachable Mains (power) cord.
2. MAINS FUSE - (serious bit) The fuse provides an overall safety protection in the event your amplifier develops and electrical fault. The correct value of the fuse is located on the rear panel of your amplifier and should only be replaced with one of the same value.
3. 8 Ohm Speaker Jack - This is used to connect the Night Train to any 8 ohm cabinet.
4. 16 Ohm Speaker Jack - This is used to connect the Night Train to any 16 ohm cabinet.
VOX Night Train Specificaitons
Front panel controls:
Rear panel controls
Mains Input (Fused)

8 Ohm Speaker Output

16 Ohm Speaker Output
Valve/Tube Complement:
Model Dimensions/Weight:
Power Output:
Included items:
Order by Phone or Fax our hours are 9:00 am until 10:00 pm EST Monday through Saturday
Phone-603-924-4251
Fax- 603-371-0671 PDF Printable Order Form
E-Mail - info@pyromate.com Please use Les Paul in the subject box.