Collectible Rare Model! ...Only 200 sold in the USA ....500 Worldwide
Ibanez JEM20TH 20th Anniversary JEM Steve Vai Signature Guitar - Acrylic
NEW! Mint Unplayed Condition
Sold

Ibanez Steve Vai 2008 20th Anniversary Model - New Unplayed collectible condition.
Steve Vai is one of the few guitarists universally acknowledged as one who has changed the way musicians think about what a guitar can really do. His signature Ibanez guitars are no different: Iconic, Sublime, Awe-Inspiring, Outrageous. The Ibanez JEM Series models are trailblazers in a world of imitators theres nothing like them.
Innovation In Design
Only 500 JEM20TH Anniversary JEMs available worldwide, 200 available in the U.S.
Proudly made in Japan since their debut in 1987
Contoured body with 24-fret JEM Prestige neck provides easy access to all registers
Vais choice of specific DiMarzio pickups for each model combined with Ibanez Split-5 wiring provide incredible tonal versatility
Lions claw tremolo cavity allows pitches to be raised or lowered
Acrylic Body

The JEM20TH's beautiful acrylic body is made by a Japanese company that fabricates the clear tank walls for the more prestigious aquariums in the world. The actual process is a closely guarded trade secret. Each body is gone over by hand extensively by a highly skilled veteran of acrylic arts. Inside the body you can see multi-colored 3D strands, another astounding feature! This guitar is definitely one of the very few that looks and plays like a dream!
Specs:
Body Material: Hand-made premium acrylic resin with 3D multi-color design inside illuminated by green LED's
Neck Material: Maple/ Walnut 5ply
Neck Scale/Type: 25.5in/JEM
No. Frets/Type: 24/ Dunlop 6105
Fingerboard: Rosewood
Inlay: Tree of Life
Bridge: Edge Pro tremolo
H/W Color: Chrome
Neck Pickup: Trans JEM Humbucker
Middle Pickup: Trans JEM Single
Bridge Pickup: Trans JEM Humbucker
Controls: 1 Volume, 1 Tone, 5-way pickup selector switch(Split-5)
Case: Special JEM20TH Hardshell Case
----------------------------------------------------------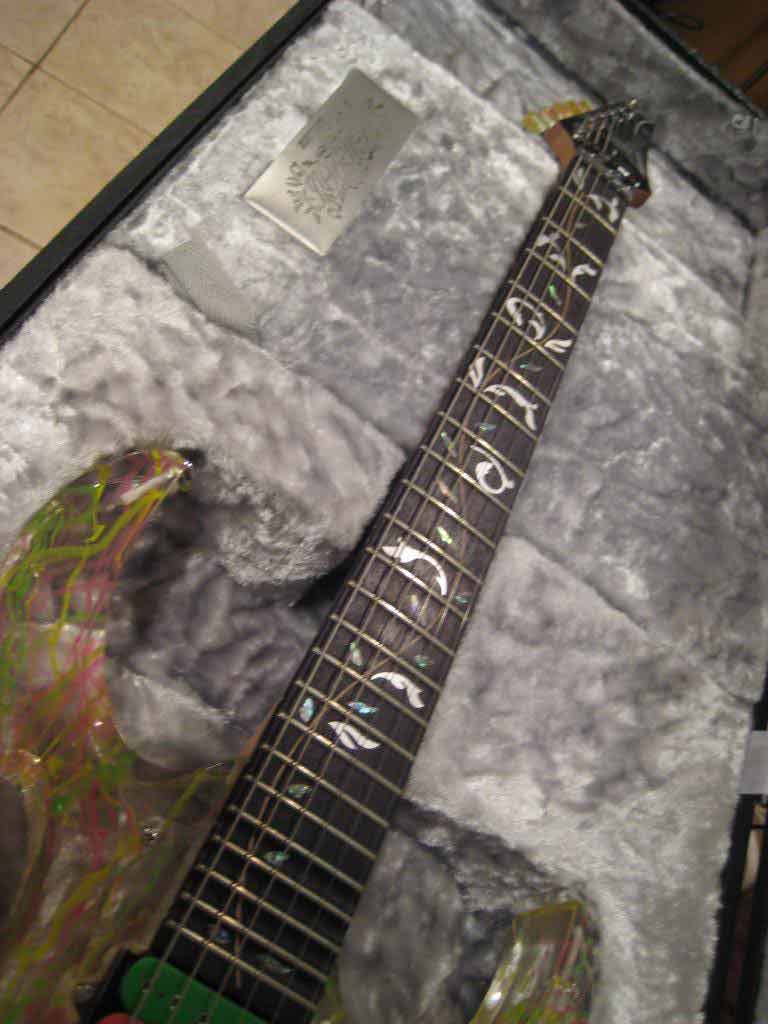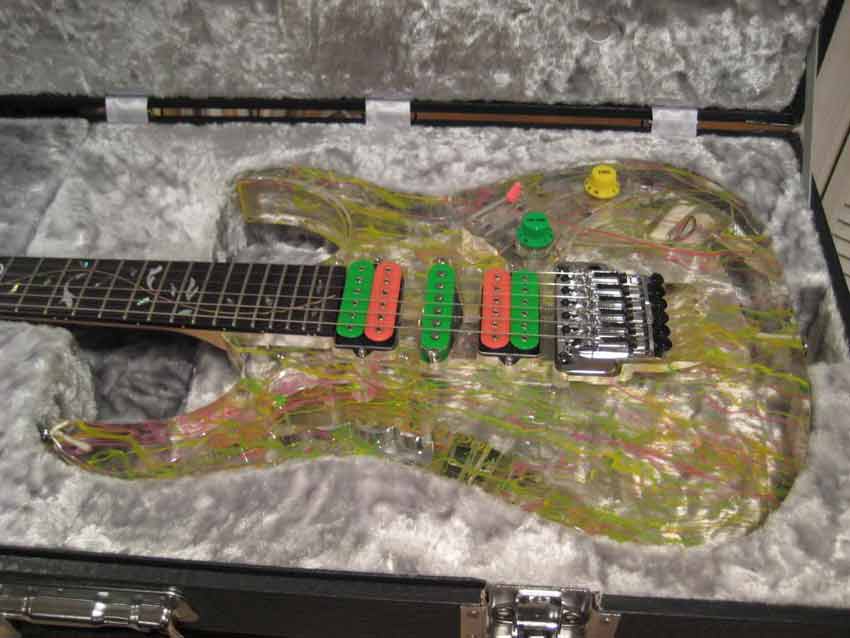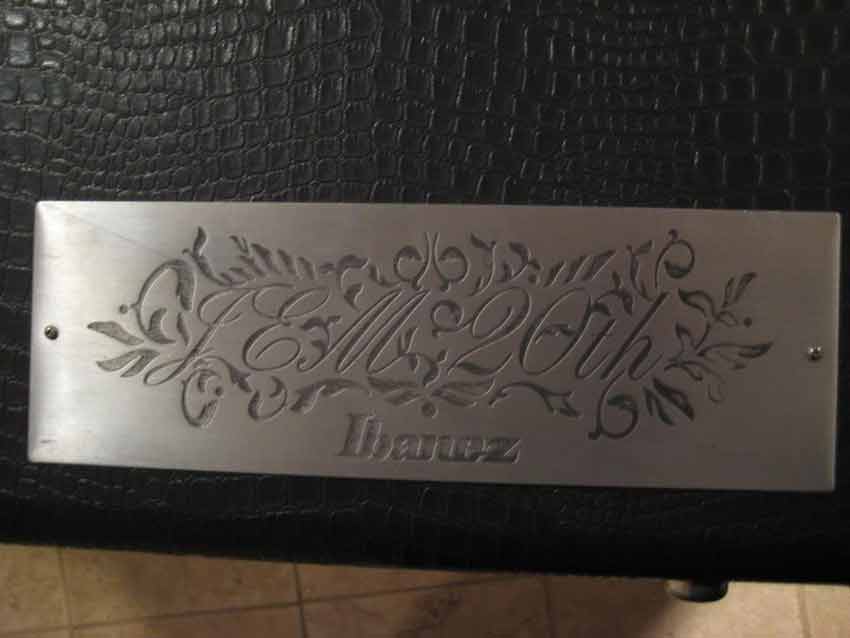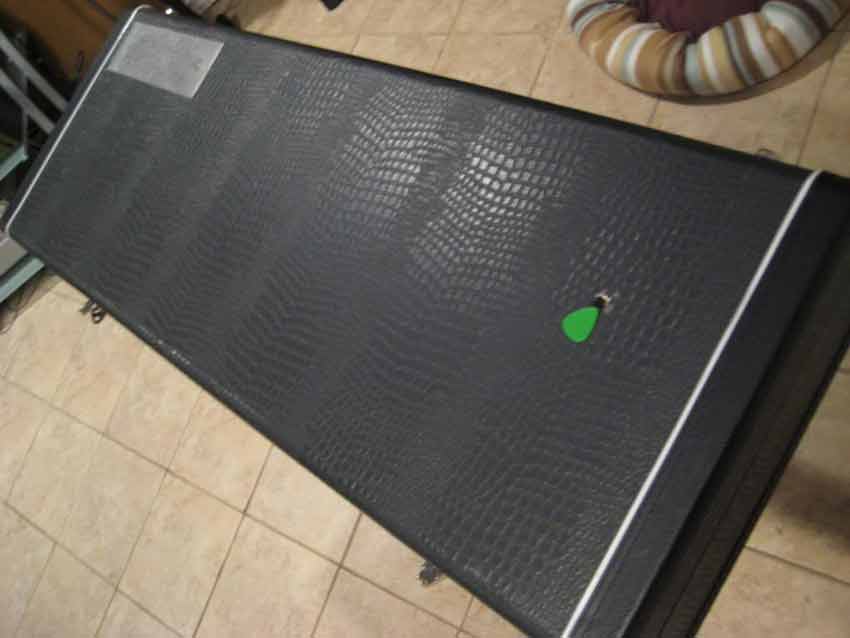 Order by Phone or Fax our hours are 9:00 am until 10:00 pm EST Monday through Saturday
Phone-603-924-4251
Fax- 603-371-0671 PDF Printable Order Form
E-Mail - info@pyromate.com Please use Les Paul in the subject box.